I've decided, for me, to start doing a review of my progress so far in true experimental spirit – "you can't improve what you're not measuring", as they say.
So, here goes.
Overall, simply knowing that I'm working towards that 'future me' vision of health and well-being and doing what I can to get ready (mentally and physically) is progressing towards one of my goals, and that feeling of daily achievement when I tick it off my to-do list each day makes me feel a lot happier with myself at the beginning of the day.  My self-talk is becoming more and more positive, and anxiety has been very low – being proactive (not just health wise ) and taking control of the things in my power does help.  I did procrastinate a couple of items though… Shhhhh!!
Getting up and exercising first thing has been great in terms of keeping motivated – I recently went freelance as a Photographer so this has been crucial in keeping me focused and able to fit more in my day.
I've shared a bit about my training goals and what I'm looking to achieve… [Read more]
I covered the exercises covered this week.
I'm getting through Podcasts at the gym and whilst I'm working (See posts: W2 D3 and )
I feel generally happier with myself
Physically there doesn't seem to be much difference other than feeling leaner, stronger core, and a general overall improvement in fitness – my weight did decrease due to the energy output of doing more, so I've increased calorie intake and reduce intermittently fasting to eliminate muscle atrophy and increase fuel availability, body maintenance, repair and growth.Added Magnesium Oil to my routine to minimise deficiency and improve general health… [Read more here: W2 D5 and W2 D6
I did some digging about magnesium… [Read more]
I survive a spin class… [Read more]
I whipped up a nice Pacific Raw Fish Salad
And… celebrated breaking the 400 followers mark on Instagram with this little Spartan gem (see below)  please follow – @WayOfTheDRGNFLY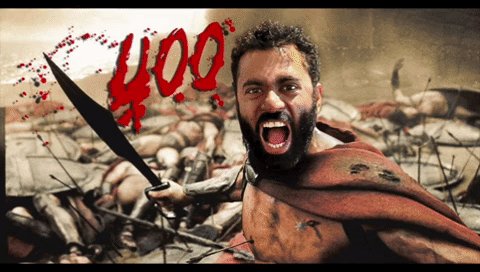 And now, with only 10 weeks until Tough Mudder D-Day, I'm looking to work more on stamina and continue to build lean muscle and strength without getting MASSIVE! lol.
Oh and this tune got me going at the gym:
I hope there have been a few gems for your this week.  I love a good laugh and can do with all the advice available so please leave a comment or two…
Have a fantastic week and ask yourself what will make it a good one and what do you need to do to make sure of it…?!!
You only have one life, so enjoy it…
---
Today's Top Tip:
---